Vanilla Beans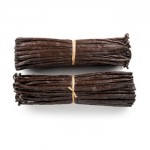 MADAGASCAR VANILLA BEANS
The king of all vanillas originates in Madagascar and is still the dominant quality in the world with about 60% of the market share. A rich vanilla flavor and aroma profile, consistent quality and crop sizes that regularly exceed 1000 mt all ensure Madagascar's position as the top producer of Bourbon Planifolia Vanilla.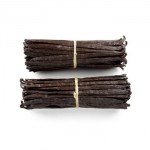 UGANDAN VANILLA BEANS
Since the 1960's Uganda has emerged as a top producer of Planifolia (bourbon-type) vanilla beans. Large plump vanilla beans yield a typical vanilla flavor and fragrance with earthy and plum notes. With production at over 150mt Ugandan Vanilla has established itself very well on a global level.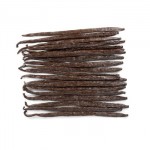 MEXICAN VANILLA BEANS
Vanilla originates in Mexico courtesy of the Aztec. Although production is small due to higher costs, Mexican Vanilla still enjoys a niche market amongst end users. An original classic flavor profile with a distinct fragrance more savory than sweet. This is a subtle vanilla flavor capable of carrying almost any recipe. Recent years of drought have driven production to record low levels.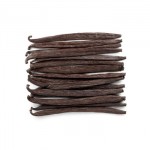 FRENCH POLYNESIAN VANILLA BEANS
The most expensive and unique vanilla on the market. Very large fat and humid vanilla beans with a special heliotropic profile. Early in the last century vanilla from French Polynesia was very common in the vanilla market. Today production is less than 50 mt yet some end users will use nothing else in their recipes due to the flavor that only vanilla from French Polynesia can impart.
Vanilla Extracts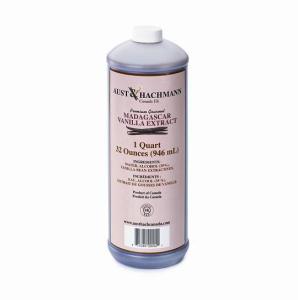 AUST & HACHMANN'S GOURMET
VANILLA EXTRACT
Our best selling extract uses a blend of mostly bourbon and bourbon type vanilla beans. A strong but not overbearing flavor ideally suited for everyday usage. Extremely economical without any compromise in quality.
Available Sizes: 12 x 1 quart (946 ml) 4 x 1 U.S. Gallon ( 3.78 liters) Drum ( 55 U.S. Gallons)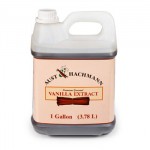 AUST & HACHMANN'S
PREMIUM GOURMET VANILLA EXTRACT
The best quality single strength extract we produce. Only the very best Madagascar vanilla beans are used. A strong and rich flavor suitable for any top recipe calling for Madagascar or bourbon vanilla extract.
Available sizes: 12 x 1 quart (946 ml) 4 x 1 U.S. Gallon (3.78 liters) Drum (55 U.S. Gallons)
(DOUBLE STRENGTH)
PREMIUM GOURMET EXTRACT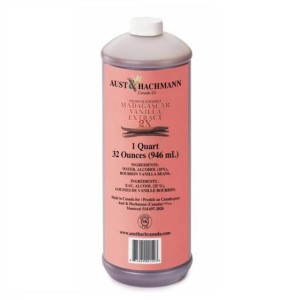 Almost 2 pounds (or 1 kg) of the finest Madagascar vanilla beans per gallon. Double the standard recipe. Ideal for larger volume users, small manufacturers, etc.
Available Sizes: 4 x 1 Gallon (3.78 liters) Drum (55 U.S. Gallons)
Vanilla Others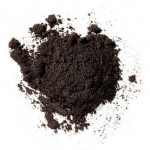 VANILLA SEEDS FROM MADAGASCAR
Vanilla seeds are meticulously separated and dried then sterilized. Seeds are used to visually enhance any type of premium vanilla products from ice creams, to custards, fillings and yoghurts.
Packing: 1kg, 5 kg or 25 kg
100% PURE VANILLA POWDER
Top quality dried and ground vanilla beans are the only ingredient in this super premium product. A rich dark brown highly aromatic powder, which can be used in baking, manufacturing and even consumed directly.
Packing: 1kg, 5kg or 25 kg.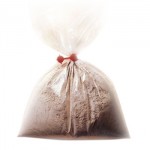 VANILLA SUGAR
This ready to use fine confectionary vanilla sugar contains a minimum 7% pure vanilla powder. The product can be used in a variety of recipes and can be consumed directly. Ideally suited for deserts, fresh fruits, beverages, baking, etc.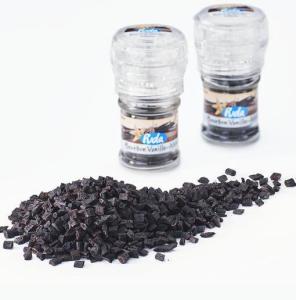 MILLING VANILLA
Aust & Hachmann brings fresh ground vanilla right to the dinner table. Top quality vanilla beans are dried, chopped into fine uniform pieces and sterilized. Milling vanilla is perfect for spice grinders and tea blends. Vanilla can be ground over sweet and savory dishes alike.
Packing: 20-25kg master cartons or 500kg Totes.